Conjunto Progreso, Miami's most celebrated Traditional Cuban Music ensemble has joined forces with two of Miami's most staunch allies, The Ministry Of Culture (creators of Fuacata) and Omni World Productions (creators of Afro Roots Festival and Women & Culture Festival). to bring you "Guateque" Son, Descargas Y Ron.
Every Sunday you will have the opportunity to experience a real Cuban party with Cuban music, Cuban food & Cuban Rum.
This event invites folks of different cultures and generations to unite and celebrate the full gamut of a Traditional Cuban Guajiro Hoedown.
Click here to go to

Conjunto Progreso Website

Conjunto Progreso live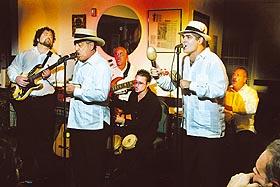 Conjunto Progreso will play 2 sets, the 1st set will consist of traditional Cuban Son and the 2nd set will start with Son and end with Descargas. CP will invite special guests to come and jam with the band on the Descargas.
The event will take place every Sunday starting September 28, 2003 from 6 pm till 11 pm. It will be held at Café Hoy Como Ayer, which is located on Calle Ocho and 22nd ave. right in the heart of Little Havana, U.S.A.